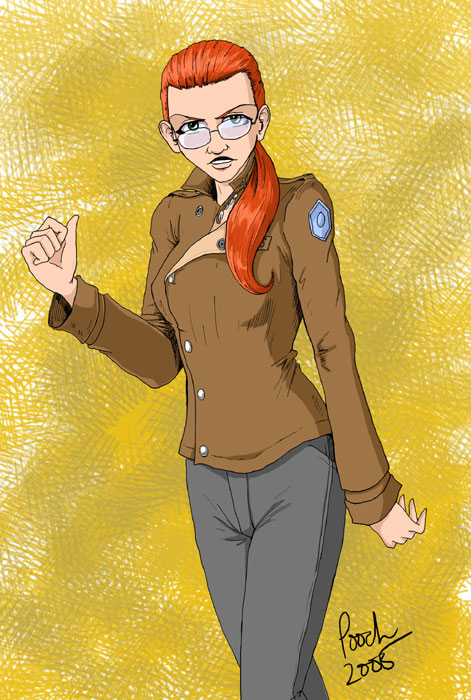 Drawn in pencil, inked in the GIMP, colored in Photoshop (except background colored in the GIMP)
One of the main characters from an aborted comic idea I was tossing around in my head for much of the early part of 2005. Obviously, the idea never came to fruition, but that didn't stop me from producing all sorts of art based on it. I still like the figure and coloring, very rare considering I usually loathe anything and everything I do a month after initially completing it.
Index / Gallery / Profile / About / Links / Follow me on Twitter
Last Updated: May 3, 2011 -- New "Gamespite" drawings (well, one is older that I just found)
January 20, 2011 -- New Fanart CG, new "Gamespite" drawing
January 13, 2011 -- New "Gamespite" stuff
February 10, 2010 -- New "Gamespite" request drawing
January 8, 2010 -- New "Gamespite" request drawing
©1999-2012 Pooch. All Rights Reserved.
Best viewed in 800x600+ in Firefox.
All non-original characters are copyright their respective creators.
Some material on this site may not be suitable for younger audiences.
A splendid time is guaranteed for some.