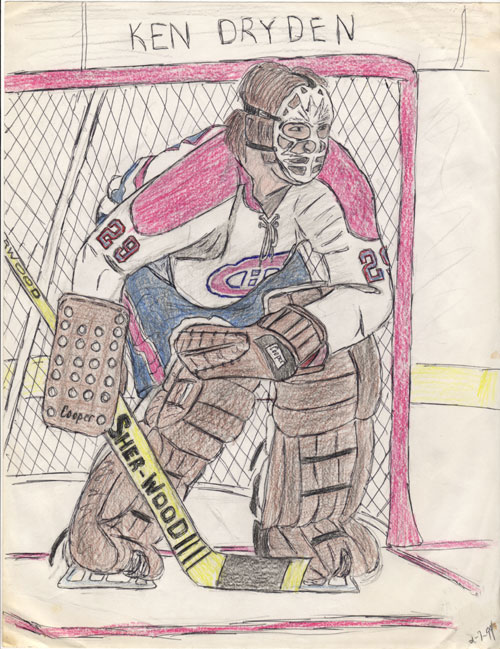 Pencil, Ballpoint pen and Crayon
Ken Dryden, former star goaltender for the Montreal Canadiens in the 1970s. Famously played in only six regular season games before leading the Montreal Canadiens to the Stanley Cup (winning Conn Smythe -- Playoff MVP -- honors in the process) in 1971. Then came back the next year and won the Calder Trophy as rookie of the year -- an unparalleled feat. A few years later Dryden retired for a year or two to go to law school, but came back to help lead the Habs to four straight Stanley Cups in the late 1970s (including the 1977 squad that set NHL records for wins [60] and team points [132] in a season; the wins record has since been broken by the 1995-96 Detroit Red Wings).
Uh...yeah. If you care, both this and the Felix Potvin drawing were done when I was in 8th grade, and was fast becoming a total hockey stathead. It's a real thrill at parties when you can reel off the stats of various players like it's second nature, let me tell you.
Index / Gallery / Profile / About / Links / Follow me on Twitter
Last Updated: May 3, 2011 -- New "Gamespite" drawings (well, one is older that I just found)
January 20, 2011 -- New Fanart CG, new "Gamespite" drawing
January 13, 2011 -- New "Gamespite" stuff
February 10, 2010 -- New "Gamespite" request drawing
January 8, 2010 -- New "Gamespite" request drawing
©1999-2012 Pooch. All Rights Reserved.
Best viewed in 800x600+ in Firefox.
All non-original characters are copyright their respective creators.
Some material on this site may not be suitable for younger audiences.
A splendid time is guaranteed for some.