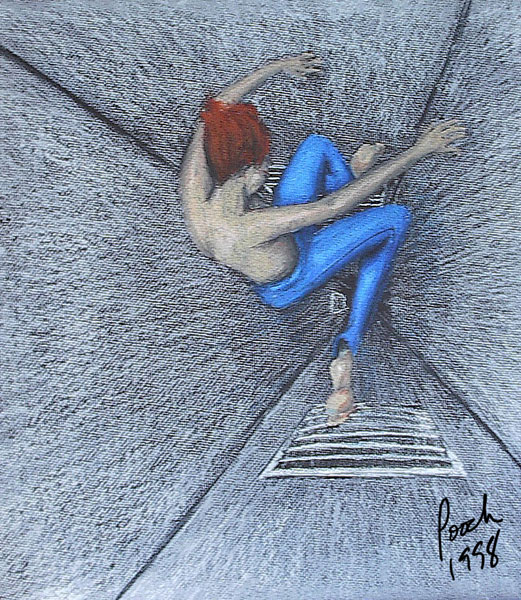 Sketched with pencil, colored with oil pastels
Another strange high school creation. I don't know where the inspiration for this one came from. I have a couple of initial sketches in an old notebook, but they do little to shed light on where this came from. This was the first (and so far only) time I've ever used oil pastels, and this piece won the not-so-coveted "Best Example of Oil Pastel" in that year's school Art Show -- which sounds good until you learn that this was the only such piece in the show (actually, there may have been a second, but no more than that).
Index / Gallery / Profile / About / Links / Follow me on Twitter
Last Updated: May 3, 2011 -- New "Gamespite" drawings (well, one is older that I just found)
January 20, 2011 -- New Fanart CG, new "Gamespite" drawing
January 13, 2011 -- New "Gamespite" stuff
February 10, 2010 -- New "Gamespite" request drawing
January 8, 2010 -- New "Gamespite" request drawing
©1999-2012 Pooch. All Rights Reserved.
Best viewed in 800x600+ in Firefox.
All non-original characters are copyright their respective creators.
Some material on this site may not be suitable for younger audiences.
A splendid time is guaranteed for some.