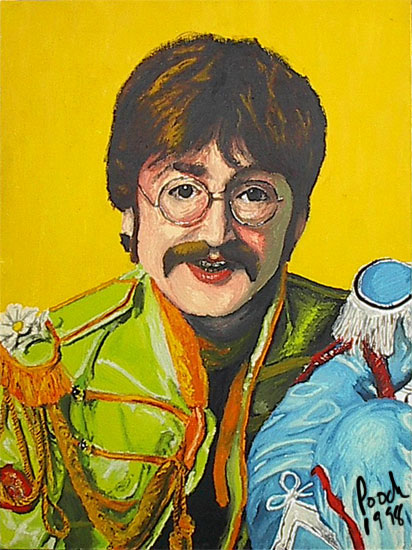 Oil Paint
My first completed painting, done on top of my first ever attempted painting (which, to this day, I've strangely never told anyone what the initial painting was going to be -- I remember one of my friends at the time claiming he was going to x-ray the painting to find the image underneath). Obviously, the image is of John Lennon, taken from the inner gatefold sleeve picture from the Beatles' Sgt. Pepper album. For my first painting, I don't think it's that bad -- there are actually a few touches here and there that I still like.
Index / Gallery / Profile / About / Links / Follow me on Twitter
Last Updated: May 3, 2011 -- New "Gamespite" drawings (well, one is older that I just found)
January 20, 2011 -- New Fanart CG, new "Gamespite" drawing
January 13, 2011 -- New "Gamespite" stuff
February 10, 2010 -- New "Gamespite" request drawing
January 8, 2010 -- New "Gamespite" request drawing
©1999-2012 Pooch. All Rights Reserved.
Best viewed in 800x600+ in Firefox.
All non-original characters are copyright their respective creators.
Some material on this site may not be suitable for younger audiences.
A splendid time is guaranteed for some.