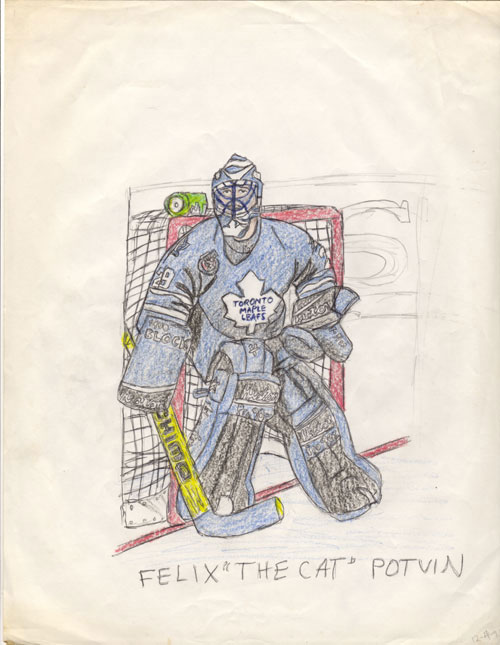 Pencil, Pen and Crayon
Felix "The Cat" Potvin (as the writing so helpfully informs you), from his 1993-94 Score hockey card. Of course, as everybody knows, Potvin made a splash as a rookie goaltender in the 1992-93 season, when he not only led the NHL in Goals Against Average (2.50), but also (along with Doug Gilmour and a few others) helped lead the Toronto Maple Leafs to the Campbell Conference Finals, where they lost out to Wayne Gretzky and the Los Angeles Kings.
And I wrote all that out from memory, too. And I'm not even a Leafs fan.
Index / Gallery / Profile / About / Links / Follow me on Twitter
Last Updated: May 3, 2011 -- New "Gamespite" drawings (well, one is older that I just found)
January 20, 2011 -- New Fanart CG, new "Gamespite" drawing
January 13, 2011 -- New "Gamespite" stuff
February 10, 2010 -- New "Gamespite" request drawing
January 8, 2010 -- New "Gamespite" request drawing
©1999-2012 Pooch. All Rights Reserved.
Best viewed in 800x600+ in Firefox.
All non-original characters are copyright their respective creators.
Some material on this site may not be suitable for younger audiences.
A splendid time is guaranteed for some.