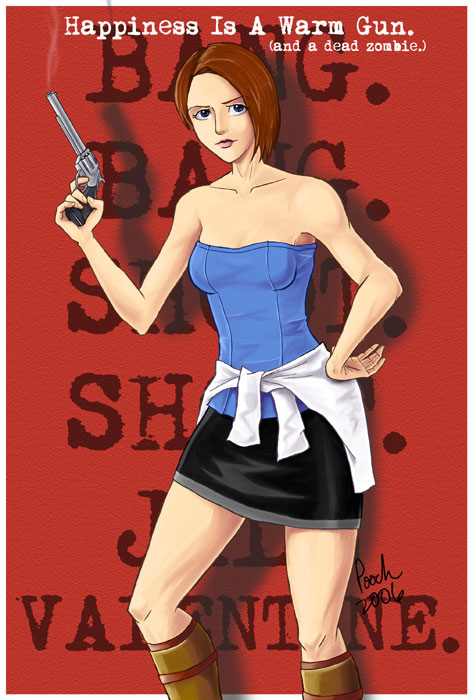 Drawn with pencil, inked and colored in Painter, lettered and tweaked in Photoshop
Around January of 2006, I reacquainted myself with the Resident Evil series of games (or, as one of my old religion teachers in high school called it, "Residential Evil"), buying up RE 1 through 4, plus Code Veronica. Of course, instead of actually playing the games, I decided to draw some of the characters from said games. Though this one, of Jill Valentine, is the first such fanart I completed, it's actually the second I sketched; the first -- Leon Kennedy being mugged by some zombies -- was completed a little after I finished this one.
AND LOOK HOW CLEVER I AM I USED A TYPEWRITER FONT AND A TYPEWRITER IS WHAT YOU USE TO SAVE YOUR GAME IN RESIDENT EVIL OH BOY GIVE ME A COOKIE.
...And please forgive the crappy gun. I cannot draw firearms for the life of me.
Index / Gallery / Profile / About / Links / Follow me on Twitter
Last Updated: May 3, 2011 -- New "Gamespite" drawings (well, one is older that I just found)
January 20, 2011 -- New Fanart CG, new "Gamespite" drawing
January 13, 2011 -- New "Gamespite" stuff
February 10, 2010 -- New "Gamespite" request drawing
January 8, 2010 -- New "Gamespite" request drawing
©1999-2012 Pooch. All Rights Reserved.
Best viewed in 800x600+ in Firefox.
All non-original characters are copyright their respective creators.
Some material on this site may not be suitable for younger audiences.
A splendid time is guaranteed for some.