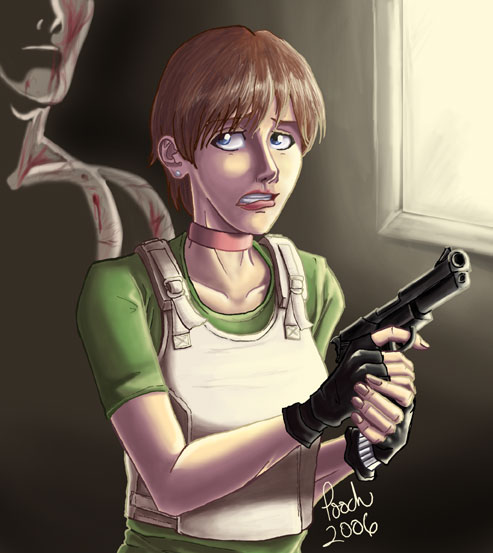 Drawn with pencil, inked with pen, colored in Photoshop
Back to normal (somewhat), with another CG, with another Resident Evil character, Rebecca (who was the secondary character in Chris's scenario in the first RE, and then later the star of the prequel Resident Evil Zero). Though, unlike my other recent CG work, the inking was done here with a pen. Of course, since my lineart is shoddy at best, it doesn't really make a difference. I also liked the version of this where I kept the lineart black -- you judge which is better.
Overall, this was not fun to do. I ended up coloring this three times before I didn't want to hurl...and even then, I'm not too sure what to think of it. I'm certainly not cut out to do this stuff for a living, that's for sure.
Index / Gallery / Profile / About / Links / Follow me on Twitter
Last Updated: May 3, 2011 -- New "Gamespite" drawings (well, one is older that I just found)
January 20, 2011 -- New Fanart CG, new "Gamespite" drawing
January 13, 2011 -- New "Gamespite" stuff
February 10, 2010 -- New "Gamespite" request drawing
January 8, 2010 -- New "Gamespite" request drawing
©1999-2012 Pooch. All Rights Reserved.
Best viewed in 800x600+ in Firefox.
All non-original characters are copyright their respective creators.
Some material on this site may not be suitable for younger audiences.
A splendid time is guaranteed for some.