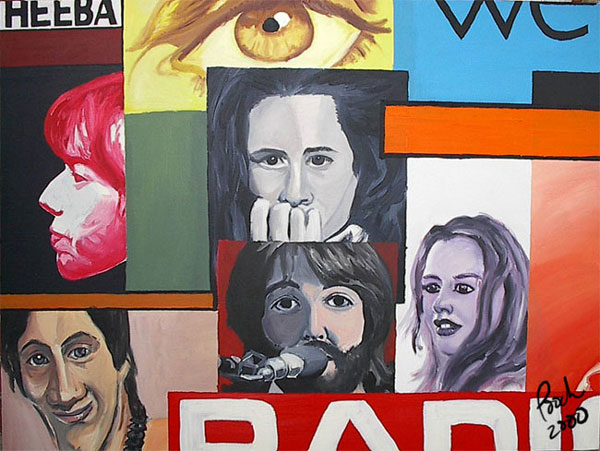 Oil Paint
At one point, I decided to do a "multi-part" painting, if you will -- where separate canvases could be put together to form one larger picture. Originally my grand plans included upwards of six or seven canvases; however, reality (and boredom) have a way of setting in when you least expect it (as does a lack of money, which contributed to my lack of painting over these past few years), and I only ever completed three paintings, which now seems like too much. Anyhow, as you may have noticed, the theme was a sort-of collage of music figures and what not, all pasted together on canvas. SEE IF YOU CAN PICK THEM ALL OUT!!
Index / Gallery / Profile / About / Links / Follow me on Twitter
Last Updated: May 3, 2011 -- New "Gamespite" drawings (well, one is older that I just found)
January 20, 2011 -- New Fanart CG, new "Gamespite" drawing
January 13, 2011 -- New "Gamespite" stuff
February 10, 2010 -- New "Gamespite" request drawing
January 8, 2010 -- New "Gamespite" request drawing
©1999-2012 Pooch. All Rights Reserved.
Best viewed in 800x600+ in Firefox.
All non-original characters are copyright their respective creators.
Some material on this site may not be suitable for younger audiences.
A splendid time is guaranteed for some.