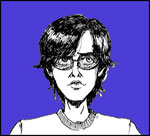 Name: Pooch
Gender: Wang.
Age: Get off my lawn, you whippersnapper!
Sign: Pisces
Location: That place where people can use their hand to show where they live.
Tools of the Trade: Staedtler 0.5mm mechanical pencil; Micron pens (0.20mm-0.50mm) -- if I'm feeling particularly adventurous I've got some India ink and some Crow #102 pen nibs; Wacom tablet; Photoshop Elements 2.0; Procreate Painter Classic; charcoal; Design Spectracolor and Sanford Prismacolor colored pencils; assorted oil paints (and a handful of brushes, obviously)
(Some of) My Favorite Musical Acts: The Beatles (as well as solo Beatles), Shoko Suzuki, Puffy (AmiYumi), The Rolling Stones, The Who, The Kinks, Sloan, Shonen Knife, Badfinger, Big Star, Queen, The Rutles, Neil Innes, Radiohead, Ted Nugent, Elvis Costello, Pink Floyd, Simon & Garfunkel, The Monkees, Black Sabbath, Ozzy Osbourne, Motown (in general), Tori Amos, Garbage, Yes, Ayumi Hamasaki, King Crimson, Kaela Kimura, Parliament/Funkadelic, The Zombies, Hikaru Utada, a zillion others
(Some of) My Favorite Movies: Dr. Strangelove (Or How I Learned to Stop Worrying and Love the Bomb), The Shawshank Redemption, Shimotsuma Monogatari, A Tale of Two Sisters, Lady Vengeance, This Is Spinal Tap, Office Space, Ringu, Ju-on, A Hard Day's Night, Help!, All You Need Is Cash, The Splendiforous Zeppelin Escapades of Filliam H. Muffman
(Some of) My Favorite Video/Computer Games: the Dead or Alive series; the Fatal Frame series; System Shock 2; the Thief series; the No One Lives Forever series; Dynasty Warriors 5; the Soul Calibur series; the Need For Speed series; Star Wars: Knights of the Old Republic (and its sequel); the Resident Evil series; the Silent Hill series; the Final Fantasy series; the Xenogears/Xenosaga series; Wolfenstein 3D; Duke Nukem 3D; the Grand Theft Auto series; the Vampire: The Masquerade series; a horde of others
(Some of) My Favorite Anime: Sailor Moon, Excel Saga, Neon Genesis Evangelion, Cowboy Bebop, Ghost in the Shell (movies + Stand Alone Complex), Full Metal Panic!, Kimagure Orange Road, Cutey Honey, Gunsmith Cats, Black Lagoon, Otaku no Video
If you want to contact me to ask about my art or this page (or something else), send email to the following address:

Do note: On the extremely unlikely chance that you are, for whatever reason, emailing me about my old Beatles parody project ("The Kids") that I took off the web years ago, there's a very good chance I'll ignore it (in fact, it's almost a given). Additionally, I have never -- and, more importantly, will never -- grant permission to anyone to re-use any of my old drawings and writings from said site (much of which was simply ripped off from The Rutles anyway). If someone is somehow claiming they have my permission to use any of that stuff (even though only a handful of people probably ever saw it), they are lying. If I want to put that old site back up, I'll do it myself -- and that's not happening in the foreseeable future.
Index / Gallery / Profile / About / Links / Follow me on Twitter
Last Updated: May 3, 2011 -- New "Gamespite" drawings (well, one is older that I just found)
January 20, 2011 -- New Fanart CG, new "Gamespite" drawing
January 13, 2011 -- New "Gamespite" stuff
February 10, 2010 -- New "Gamespite" request drawing
January 8, 2010 -- New "Gamespite" request drawing
©1999-2012 Pooch. All Rights Reserved.
Best viewed in 800x600+ in Firefox.
All non-original characters are copyright their respective creators.
Some material on this site may not be suitable for younger audiences.
A splendid time is guaranteed for some.